Equities have greeted 2018 with a bang, but none more so than Korean pharmaceutical maker Celltrion Inc., which has piled on about 9 trillion won ($8.4 billion) of market value in just seven days.

The surge has seen Incheon-based Celltrion -- which makes most of its money manufacturing copies of drugs whose patents have expired -- streak past Hyundai Motor Co., South Korea's largest automaker, to become the third-biggest company by value on the country's stock exchange. Its 37 trillion won market cap puts it behind smartphone behemoth Samsung Electronics Co. at No. 1 and chip giant SK Hynix Inc.in second place.
In fact, SK Hynix's 53 trillion-won market cap is now about equal to the combined value of Celltrion and its two subsidiaries Celltrion Healthcare Co. and Celltrion Pharm Inc.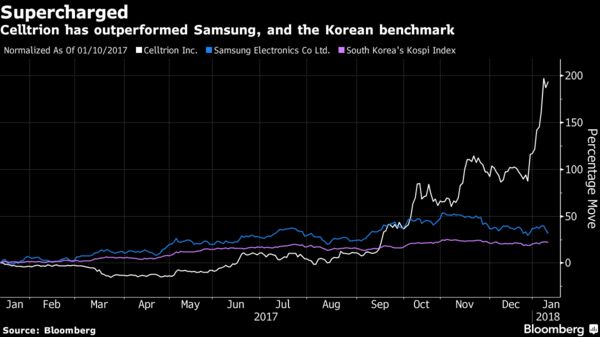 There's a couple of reasons behind the leap. Celltrion launched a new drug for treating blood cancer in Europe last year, which analysts say got a good reception, bolstering the company's prospects. Speculation that Korea plans to boost investment in the small-cap Kosdaq market -- where Celltrion is listed -- has also fueled gains. The shares have rallied every day but one in 2018, after more than doubling last year.
"This stock has long been a target for short sellers who had doubts over the company's business," said Han Byung-hwa, an analyst with Eugene Investment & Securities in Seoul, said by phone. "But shorts haven't been able to withstand the buying."
https://www.bloomberg.com/news/articles/2018-01-10/drugmaker-s-8-billion-surge-in-a-week-rocks-korea...